London-based artist Michael James Talbot creates beautiful sculptures of elongated women inspired by Greek mythology and Venetian masquerades. The surreal rep…
Do not accept anything by tradition alone… Do not accept anything just because it accords with scripture… Do not accept anything merely because it agrees with your pre-conceived notions
—Discourse from Kallama Sutra
Bacon was born in Dublin in 1909. He moved with his family to London where, at the age of seventeen, he was forced out the house by his father after he caught him wearing his mother's dress. For a while he stayed in Berlin with his uncle and received an education in art at a free academy and found himself in the sexually-liberal underworld of the city. When hereturned to London he began work as an interior designer whilst he continued to paint and follow an illicit and exuberant lifestyle in Soho. Bacon was excused from national service during the WWII due to his chronic asthma. His moody paintings began to attract much acclaim, in particular his screaming portraits of Pope Innocent X after Valazquez. Francis Bacon's first retrospective exhibited at the ICA, London in 1955 and was attended by several world-famous collectors and artists. In spite of the growing popularity of Pop Artists like Warhol and Hockney in the 1960s, Bacon was consistently showered with praise by critics and even recently has been acclaimed by the harshest of writers such as Brian Sewell (Evening Standard, 2008) for his gift to "…so lift [his subjects] with paint that we can contemplate ferociously profane images of sodomy and torment, cruelty and despair." 
Bacon has long been an influence of mine and in my self-directed project one can see his themes of existential torment and violence have found their way into my work. The use of blood-reds, paint splashes and contorting limbs all feature highly, sometimes surrounded by deep shadow and often spiralling out into strokes which bleed into the shadow and colours around.


Pope Innocent X, 1953, oil on canvas
Another artist who shares my enthusiasm for manipulating the the image of the figure to the edge of recognition is the surreal artist and designer H. R. Giger, sometimes to quite disturbing effect. Porcelain-white bodies and extremities morph and merge with machinery and torsos disappearing into synthetic surfaces or covered with mechanical parts are commonplace. As a child, Hans Giger developed sexually at an unnaturally quick rate and was raised by a devout Christian family which may have added to his pubescent feelings of sexual anxiety. After doing a spell of work at a local carnival Giger began to establish himself as an artist and was ill-received due to the dark and erotic themes of his paintings. He works primarily with and airbrush in order to achieve smooth and curvaceous forms which are quintessential to the otherworldly appearance of his strange techscapes.
Marble sculpture is one of the oldest forms of art in the western world, the high availability of the material and the slight surface translucency made it ideal for sculpting human figures, often representing mythological figures or historically-significant individuals (in the time of pre-Christian antiquity these could often be interchangeable). Marble is also easy to quarry and soft enough to easily sculpt and polish, it can however turn slightly yellow after prolonged contact with the natural oils on human skin and can be eroded by weak acids making it less suitable for outdoors sculptures. Both my drawing and painting projects have been focused mostly on the interaction between the human form and malleable substances such as fabrics, hence my interest in marble sculpture- the quintessential marble sculpture tends to feature and abundance of classically-attractive bodies partially wrapped in cloth.  The uniform shade of pearl white further suggests the transformation of human flesh into cloth, cloud or natural solids, the colour also gives the figures the appearance of dolls, aliens, gods or other quasi-human entities. Another key theme of my project is the nature of sentient being, self-awareness and the brevity of human existence- in the context of antique marble sculptures this is furthered by the occasional damage to limbs, faces and bodies, The Venus di Milo or The Winged Victory of Samathrace for instance (see below.)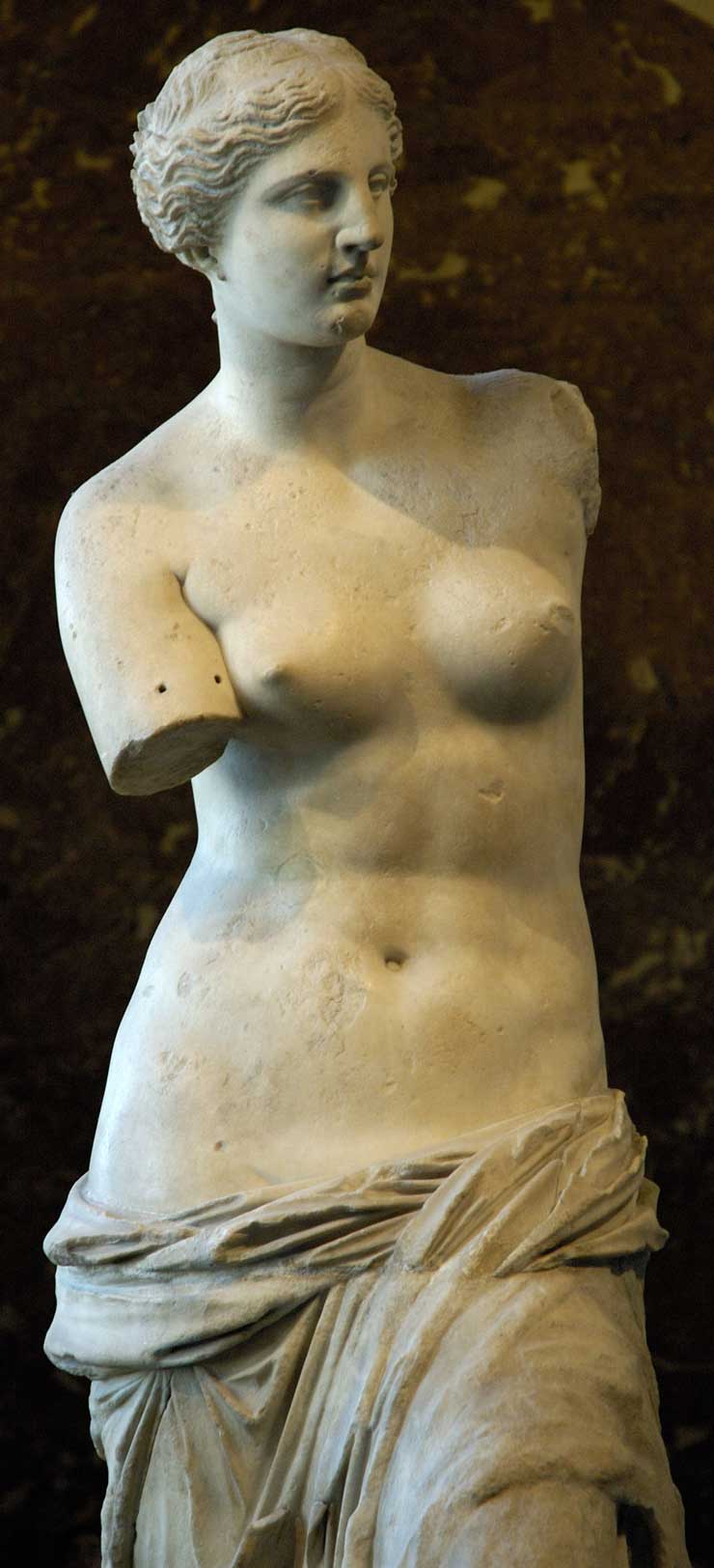 Educated at Chelsea School of Arts and the Royal College of Art, Ofili's first show was in Brixton in 1991. In '92 he went on horseback safari of Zimbabwe where he witnessed a tracker observing dung to judge the proximity of animals, it from this trip that he developed his habit for combining dried animal dung into his paintings- "a crass way of bringing the landscape onto the painting" also a means of creating a dichotomy from the combination of a repulsive material and alluring images. He later spent time in Berlin, he appreciated the emerging hip-hop scene and the freshness of contemporary German art; he staged Shit Sale, his first public performance piece. It was from this that his Shithead stemmed- three pieces of dried dung with baby teeth and dread locks lodged in them, the wary and inappreciative glances he and his work would attract made him feel one with the lumps of dung he was flogging. Over the course of the mid-90s his style developed to accommodate collage alongside his elephant dung and his swirling painted strings and forms composed of coloured dots. Within his style we can detect an influence of Zimbabwean cave paintings, flowering and colourful abstraction of psychedelic art and the use of appropriation and collage typical of both Dada and 90's port-modernism. After a series of successful shows in London across the mid- and late-'90s Ofili was nominated for the Turner prize in 1998 for which he submitted a series of paintings "No Woman No Cry"- paintings of weeping black female faces inspired by the racist murder of teenaged South Londoner and the grief of the victims mother during media interviews. His success marked historical milestone in British art: not only was he the first painter to win since 1985 but the first black artist to ever win the Turner prize. The following years brought a torrent of opportunities for exhibition across New York, English cities and Berlin. During a show at the Brooklyn Museum, conservative New York mayor Giulani slated the mixed media piece "Holy Mary" and the museum director for its "desecration of the most personal and deeply held views of people" despite not having gone to see the show. The piece in question features a black Madonna surrounded by disembodied derrieres and vaginas, Ofili defended the sentiment of the piece, saying "when I got to the National Gallery and see paintings of the Virgin Mary I see how sexually-charged they are. Mine is just a hip-hop version". I can respect Ofili's desire to highlight the disrespectful and demeaning attitudes towards women expressed in certain black cultures (especially in American gangster culture and rap) by combining sacred religiously evocative imagery with profanely sexual porn stills. Since the turn of the century Ofili was made a trustee of the Tate Gallery and has partaken in the 2003 Venice Biennial, he moved to Trinidad in 2005 and has since totally changed his style of working, focusing on pure painting, primarily in green, red and black, the pan-African colour scheme (to represent red blood spilt by black people upon green grass).
Wu Shanzhuan is a Chinese artist who currently lives and works in Germany. His work is concerned with the social upheaval caused during the Cultural Revolution, the role of the artist in modern and pre-modern China and the employment of text and images in both art and propaganda. During Mao's cultural revolution of the '60s and '70s almost all traces of traditional Chinese music, art, craft and literature was systematically collected and destroyed by the Red Army, meanwhile artists and intellectuals were sent from China's cities and forced to work amongst the proletariat on farms and in factories. In place of the Millennia-old culture, striking and cringe-inducingly blunt posters began sprung up and covered every surface. Shanzhuan's work combats this with slogans from popular culture and terms and words of poetic ambiguity produced and arranged through free association -all in blocky text of varying sizes and purely in red black and white, the colours of the Communist government's visual campaign. Shanzhuan was a member of the Red Humour Group a collective which was founded after the Cultural Revolution as a tonic to the abrasive propaganda and ideals of Mao's government. Shanzhuan was also a founding member of the Chinese Conceptual movement (1980) and the first Chinese artist to use slogans and appropriation in his work, he is a also a performance artist and uses fantastical expression, nudity and satirical humour to undermine to imposed and restrictive societal model forced upon his people by the Communist regime. 
I appreciate and admire the style and and boldness if Shanzhuan's work,  his intelligent use of text and characters, combined with installation and performance is relevant to my emerging style and I might look into how wordplay and text can be incorporated into performance and 2D pieces in my own practice.
Both of these pieces are one-shot performances I undertook in recent weeks. The themes of sacrifice, rituals and the interplay between spiritualism and medicine are important to my current project and are expressed fluently in these two performances.
Red Wine Hangover was inspired by the acts propitiation in the blood sacrifices of tribal cultures as well as the Christian Eucharist. As a young child I used to paint myself from head to toe in paints and perhaps this desire has lingered within me since; the act of painting one's body instils an unusual sense of power and freedom, like applying warpaint before a battle or make-up before a pantomime. In the same way that donning a mask gives oneself a liberating feeling of anonymity, so altering one's image with strong pigment provides a temporary new identity and permission to behave in ways they wouldn't normally. The piece itself is short and simple, an introduction into a new way of working and an experimentation in the alternative uses of pigment. A friend and video student assisted me with the filming and editing of this work.
Blood was a more elaborate time-based piece for which I enlisted the help of a friend to partake in the act of performance. I involved props in the form of a mod-roc caste of a torso, metal stands and clasps, clear plastic tubing, clay organs and a length of "intestines" (a long strip of red velvet). The caste (complete with baguette arms, alluding to Jesus's supposed transformation of flesh to bread) represented an ill man but also stood for the martyr or the sacrificial figure in general. The metal stands, clasps, tube and bottle are features of modern medical procedure, but the "bleeding" of the red ink into a tray is more reminiscent of medieval European medicine, a practice grounded in superstition as opposed to research and logic. In hammering the organs to the walls and stringing the velvet "guts" to the walls I am illustrating my feelings of repulsion towards offal and blood and creating a dichotomy between the frailty of the anatomical props and the violence they are subjected to in the name of ritual. The words I daub on the walls in the bust's "blood" read "religion", "science" and "art", a trinity of causes I think have played a vital part in shaping the development of society, where religion means the arbitrary reverence of controlling power(s) or following of personal beliefs, science is the cold logic which enables and guides technical progression and art is the expression and recordings of human experience and ideas. I think the imagery of this piece is strong and the motions were performed fluently; one piece of criticism I have is the slightly convoluted and jumbled messages which, though clear to me, did not seem to come through clearly to my critique group. 
I will attempt to perform my next time-based piece in front of a live audience perhaps with content which is easier to decipher for the viewers.